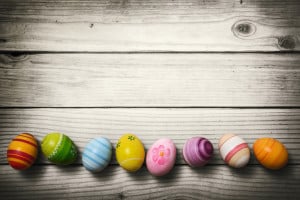 There are few things more adorable than watching pastel-clothed children scamper across a field to uncover hidden Easter eggs. Now that the holiday has finally arrives, you are invited to attend your local community Easter egg hunt where the whole family can enjoy a festive, fun-filled morning.
What Is It?
The Livonia Egg Hunt includes an exciting hunt for eggs that have been hidden by the Easter Bunny himself! Refreshments will also be served, so you can quickly quench your thirst and continue the hunt for those elusive eggs. (Keep in mind that baskets will not be provided – remember to bring your own basket or bag to gather your eggs).
Who Is Invited?
The egg hunt is for children ages 10 and younger accompanied by a participating adult.
When Is It?
The Easter Egg Hunt will take place on Saturday, April 4, 2015 from noon to 1:30pm. However, registration will take place before the event begins from 11:15 to 11:45am at the same location.
Where Is It?
Arrive at Rotary Park located at the following:
6 Mile and Hubbard
How Much Is Admission?
This is a free event.
ABOUT YOUR LIVONIA COSMETIC DENTIST

:
James Steward, DDS, and our compassionate staff proudly serve patients of all ages from Livonia, Farmington Hills, Plymouth, Northville, Dearborn Heights, Garden City, and all surrounding communities. To schedule a consultation, call our office today at (734) 425-4400.