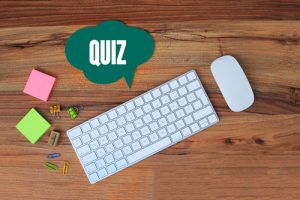 Do you know what cosmetic dentistry is? Well, simply put, these are procedures that are meant to improve the beauty of your teeth, addressing common esthetic concerns, such as discoloration. We offer a variety of professional cosmetic treatments to help patients enjoy attractive and healthier smiles.
Try Our Cosmetic Dentistry Quiz
True or False: Veneers can transform your teeth.
True or False: Professional whitening can remove a variety of stains.
True or False: Bonding can repair a tooth in one visit.
True or False: We can reshape a tooth in one visit with contouring.
Answer Key
True. Made from porcelain, veneers are lifelike and very thin restorations. We use porcelain due to the material's ability to mimic tooth enamel and the material's durability. Placed over the tooth, they cover the front and sides to completely transform the appearance of the tooth. With proper care, they can last for decades while masking teeth stains, reshaping teeth, correcting the appearance of minor misalignment, and more.
True. Store bought systems, such as rinses or strips, can remove minor discoloration, but the results rarely last and patients may experience uncomfortable sensitivity. However, our professional system can address both extrinsic (surface) and intrinsic (beneath the enamel) teeth stains to brighten your smile.
True. Bonding involves applying a composite resin to the teeth to repair chips or to mask discoloration. We can also use the material to close gaps between the teeth. We shade the material to better match the teeth and cure it with a light. Afterward, we polish the tooth. The entire procedure takes only one visit to complete.
True. With contouring, we buff away small layers of tooth structure, which removes pits/grooves in the tooth surface and dulls overly pointed teeth.
Would You Like to Learn More About Cosmetic Dentistry?
At James Stewart, DDS, our team can use cosmetic dentistry to improve the overall beauty of your smile. We serve patients of all ages from Livonia, MI, as well as Farmington Hills, Farmington, Plymouth, Northville, Novi, Dearborn Heights, Dearborn, Garden City, Westland, Redford, and the surrounding communities. To schedule a consultation, call our office today at (734) 425-4400.