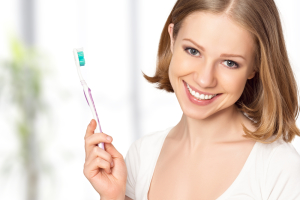 The best way to promote the long-term oral health you desire, as well as a beautiful smile, is to practice excellent preventive care at home. While many patients think they are doing their best by brushing and flossing every day, we often find that they are missing out on some very essential aspects of achieving the most successful results possible. We have taken the guesswork out of optimizing your home dental hygiene routine by gathering some important suggestions for improving your preventive practices. Look over the following and make any adjustments needed to enjoy a fresh, truly clean smile between your six-month visits:
Suggestions #1: Angle Your Brush
Are you brushing every surface of your teeth? Are you sure? The one area patients often fail to address is just beneath the gumline. In addition to the fronts, backs, and chewing surfaces of your teeth, you need to angle your brush toward your gumline. Rotating the brush approximately 45 degrees, you will sweep the brush against and away from your gums, removing food, debris, and plaque. This will help protect you from tooth decay and gum disease.
Suggestion #2: Brush Up On Toothbrush Choices
Do you use a soft-bristle brush? If so, you have chosen correctly. Anything harder than that – typically called "medium" or "hard" – is unnecessary and can actually damage your tooth tissue, rather than protect it. And how long have you had that toothbrush of yours? If it has been longer than a few months, toss it and buy a new one. Or, if your toothbrush looks like it's beginning to wear out, go ahead and throw it out before the 3-month mark and replace it.
Suggest #3: Twice A Day, Two Minutes Each Time
Keep the number "2" in mind when you brush. First, we encourage patients to brush at least twice a day, preferably once in the morning and once before going to bed. We also suggest brushing for a solid two minutes each time you brush to make sure you are getting your teeth as clean as you can, while removing plaque and practicing effective preventive care.
ABOUT YOUR LIVONIA DENTIST:
James Stewart, DDS, and our compassionate staff proudly serve patients of all ages from Livonia, Farmington Hills, Plymouth, Northville, Dearborn Heights, Garden City, and all surrounding communities. To schedule a consultation, call our office today at (734) 425-4400.