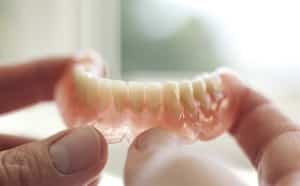 If you have chosen to wear full or partial dentures to complete your smile, we understand that you may feel unhappy with the level of stability you currently achieve. Dentures are removable dental prosthetics that serve to replace missing teeth in your smile. As a result of relying on natural suction in your mouth (though partial dentures have the added benefit of metal clasps) you may find you would like additional support. Fortunately, you have options, so you can once again enjoy the ease of dentures without worrying about slippage.
Did You Just Receive Your Dentures?
If you just received your dentures it is quite possible that you need to give yourself some time to adjust. You will need to spend a brief period getting used to speaking and chewing with your dentures in place. Or, you may find that you have some problems with stability if your dentures are old. When your prosthetic no longer fits correctly, you may find that you experience problems with support and even irritation. It may be time for repairs or replacement.
Using Special Adhesive
One option for improving the stability of your full or partial dentures is to use special adhesive that is formulated specifically to offer additional support. You have a variety of options at your disposal, including powders and creams. Speak with us for specific recommendations regarding your type of denture. You may purchase adhesives from your local drugstore, providing you with an affordable, accessible option for improving your experience with your smile.
Choose Implant Support
For stability enhancement, particularly if you find that you remain unhappy with the natural support created in your mouth, it may be time to consider adding dental implants into the equation. An implant is a titanium post inserted into your jawbone through surgery. Once healed, several implants provide stable support to a modified denture that will fit securely over the posts.
ABOUT YOUR LIVONIA, MI DENTIST:
James Stewart, DDS, and our compassionate staff proudly serve patients of all ages from Livonia, Farmington Hills, Plymouth, Northville, Dearborn Heights, Garden City, and all surrounding communities. To schedule a consultation, call our office today at (734) 425-4400.