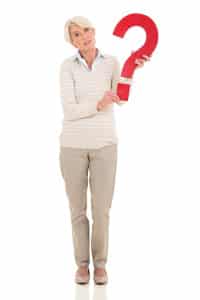 Is your smile not what it used to be thanks to tooth loss? Even if you are only missing a few teeth, the results can become emotionally devastating and quite annoying on a daily basis. Rather than allow yourself to view your smile in a negative light, while attempting to revise your daily eating and hygiene habits, we encourage you to learn more about partial dentures. By discovering more about what you do – or do not – know about this dental prosthetic, you may feel more comfortable scheduling a consultation to see if partials will work well for you, so we may begin guiding you toward a beautifully complete smile.
Partial Dentures True-or-False Quiz
True or False: A partial denture is just like a full denture – it rests over your entire arch but it only has a few teeth in it.
True or False: A partial is fixed, which means we will cement it over your teeth for long-term wear.
True or False: A partial is a wonderful solution for most patients with tooth loss because it can replace almost any tooth loss pattern.
Dental Quiz Answer Key
False. You're on the right track with this idea but just a bit off. A partial denture is composed of high-grade acrylic, replacement teeth, and metal clasps. It will sit over a portion of your dental ridge rather than your entire arch – the metal clasps will fit over your teeth for stability. It will include artificial teeth that will replace mild to severe tooth loss – but not complete tooth loss.
False. A partial is not considered "fixed" or "permanent." Instead, we call this prosthetic "temporary" or "removable." You may take your partial in and out of your mouth at will, which is helpful when you wish to care for your teeth.
True. Partial dentures offer a versatile solution to tooth loss because they can work around your remaining natural teeth to complete your smile. We will create areas that make room for remaining teeth, while filling openings that are next to one another or separated by your teeth.
ABOUT YOUR LIVONIA, MI COSMETIC DENTIST:
James Stewart, DDS, and our compassionate staff proudly serve patients of all ages from Livonia, Farmington Hills, Plymouth, Northville, Dearborn Heights, Garden City, and all surrounding communities. To schedule a consultation, call our office today at (734) 425-4400.