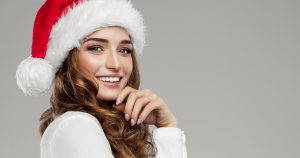 Do you and your loved ones all pack in tight every year when you hang out for the holidays, so you can have someone snap a photo? Do you cringe at the thought of seeing yourself once the photos are sent out because you worry your smile might not look so hot? While this is definitely a good reason to consider coming in to see us for cosmetic care soon, we also suggest you make some choices that will help you look just gorgeous for this year's picture. Though they may be simple, they can make quite a difference in the final result.
Smile!
Of course, if you're having some problems that really do require cosmetic care, we understand that you might not want to show off a big tooth-y grin this year! However, you may feel just as upset if you appear stoic because you choose not to smile at all. Why not go for a nice close-mouthed smile? You'll still look cheery but you won't have to stress about your teeth.
Brush And Floss First
Bring your toothbrush. Bring your floss. When it's about to be picture time, sprint to the bathroom to thoroughly perform a dental hygiene session! When you pose for the photo, you will be sure you're putting forth your absolute cleanest smile (rather than noticing later that you had some spinach between your teeth).
Don't Wear A Warm Color
This may be the year you wear "winter white" to your holiday party, since you haven't had time for cosmetic care just yet. White will help your teeth look white and it will feel festive and remind everyone of snow! When you wear colors like red (and even certain greens), they can cause your smile to appear dingy or yellowed. If it's a cool tone (it looks cool to the touch) or neutral (white, black, grey, etc.,) then it will be just fine.
Make Your Smile Photo Ready With Our Care
Take time to learn more about the cosmetic treatments we offer that can help get your smile looking photo ready! James Stewart, DDS, and our team serve patients from Livonia, MI, as well as Farmington Hills, Farmington, Plymouth, Northville, Novi, Dearborn Heights, Dearborn, Garden City, Westland, Redford, and the surrounding communities. To schedule a consultation, call our office today at (734) 425-4400.