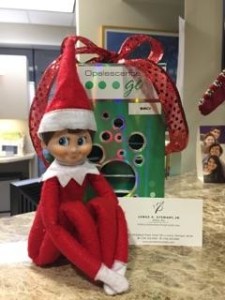 As our team prepared for a day of treating the smiles of our wonderful patients, we noticed a new visitor who had recently made a very long journey: It was an elf! He was propped up on the shelf! If you are familiar with elves who come in from the North Pole to keep an eye on the goings on of daily activities (and the dental hygiene of the boys and girls in Livonia) then you will delight in this guest of ours. Surely, he will be reporting to Santa about the wonderful job you've been doing with your smile. Right?
How To Get On Santa's Nice List
If you want our visiting elf to give Santa the good news that you certainly deserve some gifts this year, we suggest you stick to the following:
Make sure you are brushing your teeth two times every single day – and that you are flossing one time every single day. The elf can tell if you're missing too much plaque.
Piggyback on your consistent dental hygiene habits with visits to see us two times annually (every six months) for preventive cleanings and checkups.
How To Stay Off Of Santa's Naughty List
Doing what you are supposed to do to keep your smile clean and healthy will usually keep you off of Santa's naughty list. However, if the elf hears any talk or sees any evidence of the following, the chance of receiving a lump of coal in your stocking may begin to increase!:
Snacking on candy or other sugary treats throughout the day (instead of during a set time).
Forgetting to rinse your mouth out after sugary snacks (followed by an extra brushing session 30 minutes later).
Ignoring your dental hygiene routine because it's holiday time and you simply aren't in the mood to brush your teeth.
Hint: Follow the rules for a sparkling smile and the elf is sure to report good things!