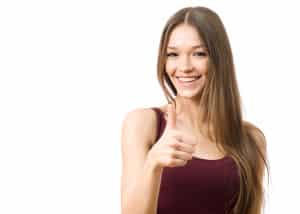 Are you feeling ready to contour your teeth? Ready to enjoy a dramatically improved appearance by addressing the minor concerns that cause your smile to appear lackluster? If you answered a hesitant, "Yes" but you're feeling worried about selecting tooth contouring to beautify your grin, then we encourage you to consider some questions and answers about this very procedure. You will find that attaining the benefits of contouring is quite simple – you can say goodbye to your concerns and hello to a greatly improved, gorgeous smile.
Common Tooth Contouring Concerns (And Reasons Not To Worry)
Concern: I'm worried that I will have to make several trips to your practice before my minor esthetic issues look better.
Don't Worry: Lucky for you, tooth contouring is very easy to plan and accomplish. It is not time-consuming but it is very effective. Most patients only require one visit to address their esthetic smile concerns.
Concern: I know that you remove some of my tooth tissue – I'm worried you might end up damaging my tooth.
Don't Worry: Most patients have nothing to worry about. It is important, of course, that the amount of enamel you have (outermost tissue layer) is sufficient for us to sculpt. If this is a concern, we may take digital X-rays, so we can shape your teeth with tooth contouring without compromising the health of your tooth.
Concern: I am concerned about the cost, particularly since I have so many little issues I would like to improve with my smile.
Don't Worry: Tooth contouring is known as one of the most wallet-friendly cosmetic solutions. Even if you have multiple concerns, you can expect this treatment to work well for most budgets.