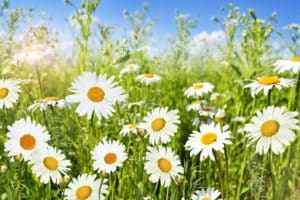 Are you a little bit obsessed with the fact that Spring has finally sprung? Perhaps it's all you can do to keep yourself from running outdoors, shirking your responsibilities, and taking a nice nap in the grass. While you might not be able to check out from your usual daily life to enjoy the weather, you can certainly do your best to make the most of it! As far as your dental care is concerned, we have a couple suggestions for making sure you can enjoy the warmer temperatures, while simultaneously enjoying a healthy, beautiful smile.
Protect Your Face
Right, probably not exactly what you were expecting as far as springtime suggestions are concerned. However, protecting your face is actually an extremely important recommendation for spring. Here's why: April is National Facial Protection Month. You see, when you're getting back outdoors on your bike, on your roller blades, participating in athletic activities, and other exciting experiences, your face and smile are vulnerable to damage. All you need to do is remember to wear your helmet or use a sports mouth guard, depending on the activity, and you'll be good to go. Not sure how to proceed? Schedule a dental care visit with us and we will help.
Revive Your Smile
For all things spring, from spring fever to outdoor spring weddings, you often feel the need to look your best. If this is the case but you're not exactly thrilled with the way your smile looks these days, contact us to schedule a dental care visit. We will look at your grin, listen to your concerns, and provide you with treatment plan options that may include porcelain veneers, teeth whitening, bonding, or contouring.