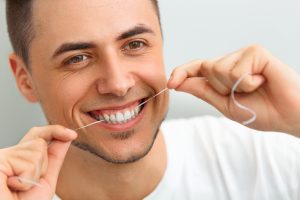 There are things you should remember about flossing your teeth to keep your oral health safe. Of course, there are the usual details: You actually need to do it daily, you shouldn't rush it, and you shouldn't push too hard. Beyond the usual stuff you hear, however, there are some things you might be overlooking that are actually quite significant. To ensure you're having a good experience and that you are truly benefitting your smile, we ask that you consider some helpful reminders.
It Should Not Ever Hurt
Your dental flossing should never hurt. It shouldn't occasionally hurt. It shouldn't hurt frequently. It should feel neutral. Are you waiting until the last minute to floss because you just can't stand the discomfort that comes with it? If so, this is not right. Assuming you are not pressing too hard, we encourage you to remember the following:
If this part of your oral health protection at home is uncomfortable in any way, let us know
If you aren't sure what the problem is, try floss made for sensitive gums
If you see any swelling, bleeding, or other changes, call us immediately
It Should Be Easy
If you find that flossing your smile is a very difficult and frustrating aspect of your experience with protecting your oral health, it's time to let us know. We may need to assist you with making a different choice for the type of floss you have been using. Or, you may need a little help with the way in which you floss. It might surprise you to learn that small changes to your method can actually make flossing much easier. Tell us you're having a little trouble and we will help during your next visit.
See Us Soon For Flossing Help
Remember to ask us about flossing during your next dental visits, so we may be of assistance. James Stewart, DDS, and our team serve patients from Livonia, MI, as well as Farmington Hills, Farmington, Plymouth, Northville, Novi, Dearborn Heights, Dearborn, Garden City, Westland, Redford, and the surrounding communities. To schedule a consultation, call our office today at (734) 425-4400.