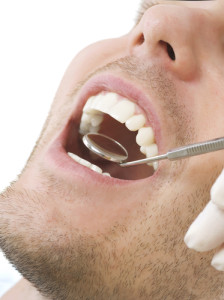 How often do you see the dentist for an exam? Having your teeth carefully examined by a dentist is essential to maintaining good oral health. What does a checkup involve? Does everyone need one?
Frequently Asked Questions About Checkups
Question: How often do I need a checkup?
Answer: The American Dental Association recommends adults and children receive a checkup at least once every six months. In order to maintain a smile free of tooth decay or gum disease, we recommend an exam so the dentist can identify the early warning signs of common dental health issues.
Question: What happens during an exam?
Answer: The doctor will carefully check your teeth, gums, and bite alignment. He may also use the DIAGNOdent dental laser to identify the earliest signs of tooth decay. With digital x-rays and intraoral cameras, the dentist can take detailed images instantly of the teeth and gums. Once we discover the signs of a dental health problem we can prescribe treatment before the problem progresses.
Question: What if the dentist discovers a cavity?
Answer: If we find your have a cavity, we will most likely place a dental filling. Made from a metal-free composite resin, the filling looks natural and prevents the decay from spreading. The entire procedure can be completed in just one visit.
Question: Will I have a cleaning too?
Answer: Yes. We typically offer cleanings with our checkup. With the cleaning, we will remove plaque buildup from your teeth and then polish them. The result is brighter teeth, fresher breath, and a reduced risk of periodontal disease. Plaque can irritate the gums and lead to the onset of gum disease. Without treatment, you may develop sore gums that bleed easily and an increased risk of adult tooth loss. If you would like to schedule a cleaning or if you have any questions, please contact our office today.
ABOUT YOUR LIVONIA FAMILY DENTIST:
James Steward, DDS, and our compassionate staff proudly serve patients of all ages from Livonia, Farmington Hills, Plymouth, Northville, Dearborn Heights, Garden City, and all surrounding communities. To schedule a consultation, call our office today at (734) 425-4400.