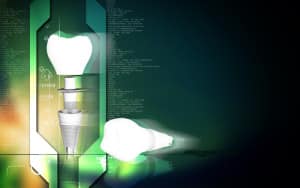 When you lose a tooth, you have an increased risk of developing misalignment, further tooth loss, and an aged appearance due to facial collapse. In order to replace your lost teeth and restore your smile to full function and health, you may benefit from a dental prosthesis, such as dental implants. What are the benefits of dental implants?
Frequently Asked Questions About Dental Implants in Livonia, MI
Question: How do they work?
Answer: A dental implant replaces one or more missing teeth with the use of adhesives or suction. Instead, the prosthesis will be free standing.
Question: Who qualifies for implants?
Answer: We recommend dental implants for patients who are missing teeth. To qualify, you will need to have an adequate amount of bone tissue to support the implant. Otherwise, a bone grafting procedure may be necessary beforehand. In addition, patients must have gums free of disease, as periodontal disease can lead to tooth loss and implant failure. We will carefully examine your smile to see if you qualify.
Question: What does placement involve?
Answer: With a dental implant, we first surgically place a post into the jaw. Made from biocompatible titanium, the post is accepted by the body as a natural tooth. After the area heals, an abutment will be added to the post in order to hold a restoration in place. After placing he restoration onto the post, your new tooth will look and function naturally.
Question: How long will they last?
Answer: On average, the implant can provide up to 25 years of quality tooth replacement. In some cases, they have been known to last even longer. The key is to maintain good oral hygiene. To do so, you should brush and floss everyday and have your teeth professionally cleaned once every six months.
ABOUT YOUR LIVONIA RESTORATIVE DENTIST:
James Steward, DDS, and our compassionate staff proudly serve patients of all ages from Livonia, Farmington Hills, Plymouth, Northville, Dearborn Heights, Garden City, and all surrounding communities. To schedule a consultation, call our office today at (734) 425-4400.