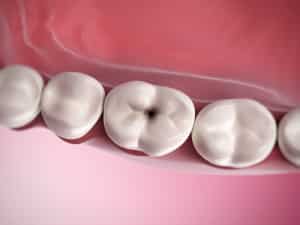 Tooth decay is a common and widespread oral health issue. Without treatment, a cavity can soon lead to infection and a greater risk of tooth loss. How can you prevent tooth decay? With good oral hygiene, you can significantly reduce your risk of developing a cavity.
Frequently Asked Questions About Preventing Tooth Decay
Question: Does brushing and flossing affect my oral health?
Answer: Yes. There's a reason they teach you to care for your smile at a young age. When you brush and floss, you remove food from your teeth and help cleanse the mouth of bacteria. Otherwise, bacteria break down the particles. The result is plaque buildup and increased oral acidity, which can weaken tooth enamel and allow tooth decay to form.
Question: How often should my teeth be cleaned?
Answer: The American Dental Association recommends that both adults and kids have their teeth cleaned at least twice a year. Doing so removes plaque buildup, which prevents the buildup from causing enamel erosion and allowing cavities to form. In addition to fighting dental caries, a cleaning can also reduce the risk of developing gum disease, protecting the stability and health of your smile.
Question: What are dental sealants?
Answer: Often we use dental sealants to protect young smiles from decay. The procedure involves placing a plastic coating on the rear molars. These teeth are often difficult for kids to reach when brushing. The sealants keep food from becoming caught between teeth. Over time, the coating will wear away naturally.
Question: Will I need fluoride treatments?
Answer: In addition to dental sealants, your children can also benefit from a fluoride treatment. Using fluoride, we apply a varnish to the teeth that strengthens natural defenses against decay-causing bacteria. If you have any questions about preventing tooth decay for both kids or adults, then contact our office today.
ABOUT YOUR LIVONIA GENERAL DENTIST:
James Steward, DDS, and our compassionate staff proudly serve patients of all ages from Livonia, Farmington Hills, Plymouth, Northville, Dearborn Heights, Garden City, and all surrounding communities. To schedule a consultation, call our office today at (734) 425-4400.