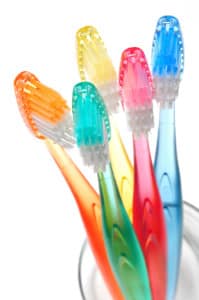 There are all types of habits. Good ones, bad ones, in-between ones. When it comes to dental hygiene habits, the best ones are those that help keep your smile in excellent health. We would like to focus for a moment on your brushing habits. In this case, brushing is a good habit and can be an excellent one if you know the way to optimize the results. Fortunately, with some easy tips for better home care, you will see a quick improvement in the way your teeth feel and your ability to avoid problems like cavities (unless, of course, you're already a complete expert).
Don't Get Sentimental About Your Brush
Your toothbrushes are items that you're going to have to become used to seeing come and go. It's important that you don't get attached to a particular brush or design because keeping them around for too long can result in a bacteria-filled brush that is actually a bit risky to place in your mouth. Instead, make sure you're using a fresh, clean brush by replacing it every three months or so (or sooner if it looks like it needs replacement) for good dental hygiene.
Always Lean Toward Gentle Products
Your teeth are definitely durable but their outermost tissue – enamel – is still susceptible to scraping and erosion. Your gum tissue is, of course, sensitive. Rather than reaching for something abrasive or hard, choose something gentle – this applies to both toothpaste and brushes. For best dental hygiene, a soft-bristle brush and nonabrasive toothpaste is the way to go.
Remain Detail-Oriented
Your teeth have multiple surfaces – the front, the back, the chewing surface, etc. Don't make the mistake of focusing solely on the visible surface of your teeth or you may increase your chances of experiencing tooth decay. Clean every surface every time you brush.
Don't Neglect Your Gums
It's very important that you remember your gums. Plaque and food particles may hide along and just beneath your gumline. Sweep them away with brushing (and flossing, of course) and you can avoid gum disease. Hold your toothbrush at a 45-degree angle toward your gumline and gently brush away from your gums. It's really that simple.
ABOUT YOUR LIVONIA, MI DENTIST:
James Stewart, DDS, and our compassionate staff proudly serve patients of all ages from Livonia, Farmington Hills, Plymouth, Northville, Dearborn Heights, Garden City, and all surrounding communities. To schedule a consultation, call our office today at (734) 425-4400.