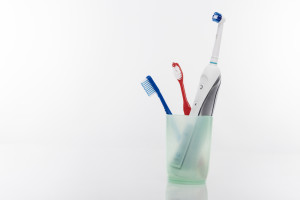 Did you know the electric toothbrush was invented in Switzerland in 1939?  It wasn't introduced to the U.S. until the1960s.  Some of you reading this were probably born in that decade. Today, electric toothbrushes have risen in popularity. They are affordable and easy to use. Children tend to enjoy brushing with electric toothbrushes over manual ones. They find them fun and even say they tickle. There is an ongoing debate, however, as to whether they are more or less effective than a manual toothbrush. If you have questions regarding the use of electric toothbrushes your Livonia, MI dentist, Dr. James Stewart, will be happy to answer them for you.
Electric
Research indicates that electric toothbrushes have recently become more popular. A popular manufacturer has doubled their sales since 1998. Retail space has grown, and many dentists are recommending them. But what are the advantages of an electric toothbrush?
Electric toothbrushes are easier to use. For children, the elderly, arthritis sufferers, and people with upper body mobility restrictions, electric toothbrushes can be easier to use and can help them perform proper oral health care.
Electric toothbrushes can be gentler on teeth. Many people have a tendency to think you need to scrub your teeth clean, and brush too vigorously. This can cause receding gums, damaged tooth enamel, and tooth abrasions.
Electric toothbrushes have timers so people brush for the appropriate amount of time.
Electric toothbrushes can perform a thorough cleaning faster. An electric toothbrush head completes 6,000 to 30,000 strokes per minute compared with only 300 strokes manually. Studies have shown that this rapid motion removes more plaque in two minutes than manual brushing does in six.
Electric toothbrushes can get children interested in oral health care.
According to the American Dental Association (ADA), it is not the toothbrush, but the effectiveness of the brushing technique.
About Dr. Stewart
James R. Stewart, Jr, DDS, PC and our compassionate staff proudly serve patients of all ages from Livonia, Farmington Hills, Plymouth, Northville, Dearborn Heights, Garden City, and all surrounding communities. If it's time for a professional cleaning, call our office today at (734) 425-4400, to schedule an appointment.