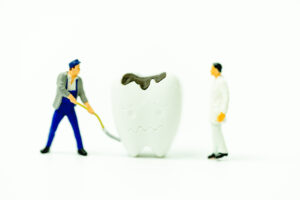 When you have an infected tooth, this could lead to serious trouble with your oral health. You could even risk the loss of the tooth completely! However, by treating infection with an endodontic procedure, we can protect your smile. In today's blog, your Livonia, MI, dentist talks about root canal therapy.
Infected Teeth
When a case of tooth decay isn't treated, this could spread until an infection arises. This means the harmful oral bacteria has come into contact with the inner pulp. This could also occur when a tooth is severely damaged, or worn down by teeth grinding. Infection could mean painful symptoms like toothaches, sensitivity, pain when we eat and speak, headaches, jaw pain, swelling, and even a discharge from the tooth. If this applies to you, then please see us right away. Otherwise, your infection could lead to tooth loss!
Tooth Loss
In the severe stage of infection, the teeth could require extraction to prevent the spread of infection to other parts of your smile. The tooth could also fall out on its own. Missing teeth could then lead to painful symptoms of TMJ disorder and bruxism, dental misalignment, and even the loss of additional teeth. Which is why treating the issue the second you notice symptoms is very important. In addition, if you attend routine six-month checkup and cleaning visits, then we can likely identify this issue in the earliest stages of demineralization, before you experience pain or risk tooth loss.
Root Canal Procedures
We always take time to ensure your root canal procedure will be a comfortable one. To start, our team will administer a numbing agent to the teeth. If you have anxiety, then we could also discuss dental sedation, which helps you enter a calm and relaxed state, often with little to no memory of the procedure at all. We then open the tooth to reach and remove the infected tissues from within. Next, we clean the interior of the tooth and the roots. A special restorative material, known as gutta percha, will be applied. Finally, we cap the tooth with a custom-made dental crown, one that looks natural and safeguards your tooth.
This treatment is a comfortable one, and helps safeguard your smile from major discomforts and complications. If you have any questions about how we treat an infected tooth or what you can do to avoid poor oral health, then please don't hesitate to contact our team today!
TALK TO YOUR LIVONIA/DETROIT, MI DENTIST ABOUT ENDODONTIC TREATMENTS
Our team wants to help treat poor oral health so you continue to enjoy a complete smile. If you want to learn more about keeping smiles whole and healthy, then please contact your Livonia, MI, dentist, Dr. Stewart, by calling (734) 425-4400.