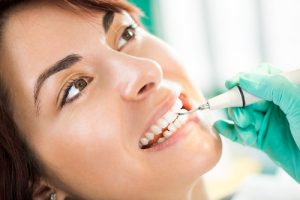 When was the last time you saw your dentist for a checkup and cleaning? Unfortunately, it is easy for adults to forget their dental cleanings. Without these routine preventive procedure, the risk of oral health concerns, which can range from tooth decay to gum disease, can increase. Do you need to schedule one?
Why Do We Need One?
You need a dental cleaning because brushing and flossing alone cannot completely remove plaque and tartar (calcified plaque) from your teeth. Without removal, plaque and tartar can erode tooth enamel and inflame gum tissue, increasing the risk of tooth decay, gingivitis, and even gum disease. You should see your dentist every six months for a visit to have your teeth thoroughly cleaned.
How Does the Dentist Clean My Teeth?
Using either a manual tool or an ultrasonic scaler, the dentist or hygienist will remove the plaque and tartar from the surface of the teeth. The procedure only takes a single visit. Afterward, the teeth will be thoroughly polished. The result is fresher breath, brighter teeth, and a healthier smile overall.
In situations where the patient has gingivitis or the early stages of gum disease, we may prescribe a deep cleaning. Like the regualr one, we remove plaque and tartar form the teeth. However, we go a step further and remove the buildup from the exposed portions of the root. The procedure may require more than one visit, but can reverse gingivitis and help prevent gum disease from progressing into a more serious and damaging state.
Will My Smile Be Examined?
During the same visit we will also perform a checkup. We will look for signs of decay, oral cancer, gum disease or gingivitis, or even jaw joint issues, such as TMJ disorder or bruxism. We can then discuss possible treatment options.
Do You Need A Dental Cleaning?
James Stewart, DDS, we can help you enjoy a healthy smile with routine preventive care. We serve patients of all ages from Livonia, MI, as well as Farmington Hills, Farmington, Plymouth, Northville, Novi, Dearborn Heights, Dearborn, Garden City, Westland, Redford, and the surrounding communities. To schedule a consultation, call our office today at (734) 425-4400.