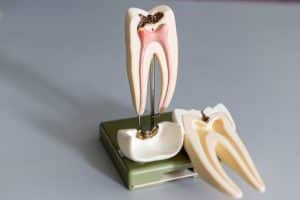 If a tooth has a cavity, we place a filling. But what if your tooth has a serious infection or abscess? In these situations, we may perform an endodontic procedure to restore the tooth and preserve your smile. How do you know if you tooth needs a root canal? What does the procedure involve?
Frequently Asked Questions About Root Canal Therapy
Question: Can we eventually lose an infected tooth?
Answer: Yes. If an infection remains untreated, the inner pulp dies. The pulp acts as the tooth's nerve center, keeping it alive and healthy. At this point, the tooth is effectively dead and will require extraction to prevent infection from reaching surrounding teeth or moving into the jawbone.
Question: How does the doctor diagnose an infection?
Answer: We will use digital x-rays, DIAGNOdent laser technology, and intraoral cameras to obtain a detailed view of your smile. We can then assess the damage to your tooth and identify decay or infection, preserving the appropriate treatment.
Question: How does a root canal work?
Answer: If you do require a root canal, we will open the tooth and remove the infected tissue. The tooth will then be thoroughly cleaned and a restorative filling known as gutta percha will be placed. We then complete the procedure by adding a dental crown.
Question: Will my smile look natural afterward?
Answer: Yes! The dental crown we use will be custom-made using ceramic, a strong material that also mimics the appearance of natural tooth enamel. The crown protects the tooth from decay and reinfection while also ensuring the tooth blends with your smile. If you have any questions or concerns, then please contact our office today. Don't let an infection threaten the stability of your smile!
Do You Have Questions About Root Canal Therapy?
At James Stewart, DDS, we can address dental infection and help you enjoy a healthier smile. We serve patients of all ages from Livonia, MI, as well as Farmington Hills, Farmington, Plymouth, Northville, Novi, Dearborn Heights, Dearborn, Garden City, Westland, Redford, and the surrounding communities. To schedule a consultation, call our office today at (734) 425-4400.