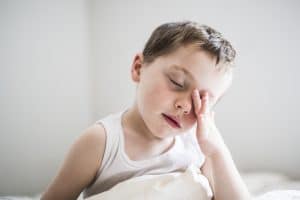 When your child seems unable to enjoy a good night's rest without interruption, this could impact their behavior and even cause them to fall behind in school. For many, these issues, often is misdiagnosed as ADD or ADHD, could be the result of complications with the growth and development of the smile. In today's blog, your Livonia, MI, dentist looks at how we help kids with orthotropic care.
Warning Signs of Poor Rest
When there are problems with the growth and development of the jaw, teeth, and oral structure, this could obstruct airways as your child sleeps. Your child then stops breathing for brief periods, experiences shallow breathing, and wakes frequently, interrupting their sleep cycle. As a result, they may get up in the night, wake up very early and have trouble going to sleep, or fall asleep frequently throughout the day. Many have trouble focusing at school during the day. Sleep walking, talking, and movement is common too, as are tantrums and falling behind their expected emotional and educational milestones. If one or more of these potential warning signs sounds familiar, then please contact our team to schedule an appointment!
Long-Term Consequences
Without treatment, poor breathing could increase the risk of sleep apnea as your child reaches his or her teen and adult years. Sleep apnea strains the immune and cardiovascular system, leading to serious problems as they grow older. In addition, the issues with the development of the face could lead to weak chins, dental misalignment, and issues with overall facial structure. Treatment could help prevent this, as our orthotropic oral appliance could help guide the growth and development of the smile with time!
Creating an Oral Appliance
To treat your child, we take a series of detailed digital images and measurements of the smile, which we use to design and create an oral appliance. The Biobloc device is then worn as your child sleeps. The device helps guide the growth of the smile, and fits comfortably. Your little ones then rests easier at night, and doesn't need oral surgery or other invasive treatment options. If your child has developed misalignment, then we can discuss treatment options or refer him or her to a specialist. If you have any questions about our potential treatment options, or about our approach to children's dentistry, then contact our team today!
DO YOU HAVE QUESTIONS ABOUT ORTHOTROPIC DENTISTRY?
Our team wants to help ensure your little one enjoys better smiles both now and later on in adulthood. We want to make sure children in our community enjoy healthy and beautiful smiles for years to come. For more information on our approach to children's dentistry, then call the office of James Stewart, DDS in Livonia, MI, today at (734) 425-4400.