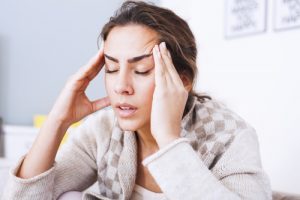 Do you suffer from persistent headaches, but have yet to determine the cause? You may need to stop by and see your dentist. People are often surprised to learn that their headaches could be the result of an oral health problem, such as TMJ disorder or even bruxism (teeth grinding). Do you need headache relief?
Frequently Asked Questions About Headache Relief
Question: How does TMJ disorder lead to discomfort?
Answer: TMJ disorder develops when your jaw joints undergo excessive amounts of strain. You may develop difficulty opening and closing your mouth. As a result of the strain, you may develop headaches, as well as jaw pain, neckaches, and pain in the neck and shoulders.
Question: Will teeth grinding cause head pain?
Answer: Bruxism, or teeth grinding, can lead to toothaches, tooth sensitivity, and also headaches. Without treatment, bruxism can also wear down tooth enamel, increasing the risk of cavities and eventually, serious dental infections.
Question: When should I see a dentist?
Answer: If you experience persistent headaches, as well as pain in the mouth or jaw, then contact your dentist. We can examine your smile and jaw to pinpoint the cause of your discomfort and recommend appropriate treatment options. Don't ignore discomfort in and around your mouth as this could potentially be a warning sign of trouble. For both disorders, the dentist may prescribe an oral appliance. Worn at night, the device will prevent further damage from grinding and help ease strain on the jaw joints.
Question: What can I do to help from home?
Answer: You can apply a warm compress to the side of the face to ease the strain. You can also avoid caffeine or chewing on hard/chewy foods, as the repetitive actions needed to consume them can exacerbate symptoms.