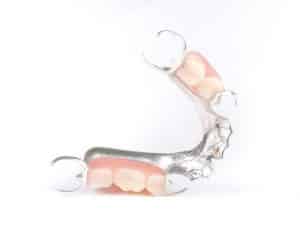 When you lose all of your teeth, your dentist will recommend a full denture. But what if you lose multiple teeth, but not enough to warrant a full prosthetic? In these situations, we may recommend a partial denture. Do you have questions about our partial prosthetics?
Frequently Asked Questions About Partial Dentures
Question: How do they differ from full dentures?
Answer: A full denture replaces every tooth on either one or both of your arches. The prosthetic is held in place with natural suction, or a fixed option is secured with dental implants. However, a partial only replaces a handful of missing teeth that are spread out across the arch. The base is made from acrylic and designed to look like gum tissue. Instead of suction, they contain metal clasps that attach to the remaining natural teeth to hold them in place.
Question: Do they look natural?
Answer: Yes! In addition to the gum like base, the replacement teeth are created from natural looking materials and designed to blend with the rest of your smile. We want your prosthetic to look natural, no one should be able to tell you have a partial but you and your dentist.
Question: Can you support them with dental implants?
Answer: Yes! We can use multiple dental implants to provide a fixed partial, which remains in place and doesn't slip when you speak or eat. In addition, the dental implants can stimulate jawbone growth, which prevents the loss of jawbone tissue and aged appearance that otherwise accompanies multiple tooth loss. If you have any questions or concerns about replacing missing teeth or our prosthetics, then contact our office today. We can help you enjoy a full smile again with a custom and lifelike dental prosthetic, whether you need a bridge, partial, or full denture!
Are Partials Right For You?
At James Stewart, DDS, we can restore multiple lost teeth. We serve patients of all ages from Livonia, MI, as well as Farmington Hills, Farmington, Plymouth, Northville, Novi, Dearborn Heights, Dearborn, Garden City, Westland, Redford, and the surrounding communities. To schedule a consultation, call our office today at (734) 425-4400.