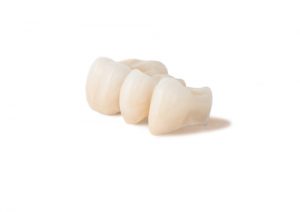 Last week, we discussed how we often repair decayed teeth using our tooth-colored dental fillings. But what if your tooth has developed substantial decay or damage? You may require a different form of restoration, such as a dental crown. Do you have questions about crowns?
Frequently Asked Questions About Dental Crowns
Question: How do you create them?
Answer: We will first need to prepare the tooth. We remove a small amount of stricture to make room for the restoration. We will then take detailed impressions. Using the impressions, a dental lab can create your crown. Once complete, we will check the fit, make any necessary adjustments, and place the crown with a powerful bonding agent.
Question: What issues can they address?
Answer: We can repair broken, chipped, or cracked teeth. We can also reshape malformed teeth or mask teeth stains. The restoration can also anchor a dental bridge in place and restore a single tooth dental implant.
Question: What materials to you make them from?
Answer: For teeth near the bac of the mouth, which must endure more substantial bite forces, we will use metal, porcelain-fused-to-metal, or zirconia. For teeth near the front, we will use lifelike ceramic, which mimics the appearance of enamel and provides durable and stain-resistant repair.
Question: How do you keep them strong?
Answer: You need to make time every six months to see the dentist. During your checkup, we will make sure your crown continues to remain strong and lifelike. We will also perform a cleaning, which removes plaque buildup. At home, you need to brush your teeth twice a day and floss each night before you go to bed. With the right steps, you can protect your restoration while maintaining good overall oral health.
Ready to Try a Dental Crown?
At James Stewart, DDS, our team can use crowns to restore function and health. We serve patients of all ages from Livonia, MI, as well as Farmington Hills, Farmington, Plymouth, Northville, Novi, Dearborn Heights, Dearborn, Garden City, Westland, Redford, and the surrounding communities. To schedule a consultation, call our office today at (734) 425-4400.