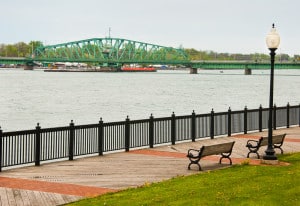 Looking for a fun way to get summer started? Is your family ready for the warm, exciting days of summer, hoping to catch wind of a festival or two? If so, this is just the event for you.
Event Info
This is the Detroit River Days event put on by the Detroit RiverFront Conservancy. You and your family are warmly invited to take part in summer festivities along the Detroit Riverfront. You can expect three fun-filled days, including (but not limited to) the following activities:
Riverboat tours
Live entertainment and music
Activities for your children
Yummy food
Time and Date
Visit the festival from Friday, June 19 to Sunday, June 21, 2015 at the following times:
Friday: 11am to 11pm
Saturday: 11am to 11pm
Sunday: 11am to 10pm
The Location
This event will take place along the Detroit riverfront at the following address:
1340 E. Atwater St.
Detroit, Michigan 48207
Admission Prices
Admission to the festival will be free on Friday from 11am to 5pm. For Saturday and Sunday, admission will include the following:
Prior to 3pm: $3 per person
After 3pm: $5 per person
Children 3 and under and seniors 65 and older: Free
Answers To Your Questions
Do you have specific questions about this event? If so, contact 313-566-8200.
ABOUT YOUR LIVONIA, MI DENTIST:
James Stewart, DDS, and our compassionate staff proudly serve patients of all ages from Livonia, Farmington Hills, Plymouth, Northville, Dearborn Heights, Garden City, and all surrounding communities. To schedule a consultation, call our office today at (734) 425-4400.