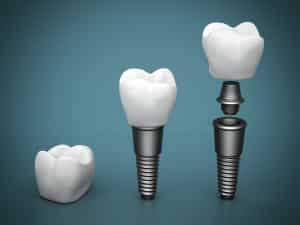 Discovering dental implants is often a very happy day for patients dealing with the aftermath of tooth loss. Once you suffer from one or more missing teeth, you know that it's important to replace them as soon as possible – this protects the alignment of your smile and allows you to regain comfortable daily speaking and chewing. However, you may find that you feel a bit unsure regarding implants, which can cause you to postpone your plans for teeth replacement. For the most part, we find that patients feel concerned they won't have the time or patience to maintain implants. Rest easy – care is much simpler than you think.
True-or-False Implant Care Quiz
True or False: You will need to use a special type of toothpaste to keep your dental implant restorations clean. For your natural teeth, you will need to switch over to your usual toothpaste.
True or False: Since plaque cannot cause tooth decay on an artificial tooth, such as a dental crown that tops your dental implant – you don't need to worry about brushing teeth replaced by implants.
True or False: There's a combination of special instruments required of you if you choose implants – they're not very hard to care for as long as you know which types of tools to use.
Implant Quiz Answer Key
False. You will not need to use special toothpaste formulated for implants. You may continue using your favorite toothpaste on both your remaining natural teeth as well as the restorations that top your dental implants. One special note: Just make sure your toothpaste is non-abrasive.
False. While your dental crown may not be at risk of developing a cavity, plaque will still cause problems if you fail to sweep it off of your implants with your toothbrush – flossing is important, too. Neglected plaque may lead to problems like gum disease.
False. Again, you will not need to make any special accommodations for your smile if you choose implants to replace your missing teeth. You will simply follow the usual recommendations for keeping your teeth and gums in good health. Brush, floss, and visit us for checkups and cleanings.
ABOUT YOUR LIVONIA, MI DENTIST:
James Stewart, DDS, and our compassionate staff proudly serve patients of all ages from Livonia, Farmington Hills, Plymouth, Northville, Dearborn Heights, Garden City, and all surrounding communities. To schedule a consultation, call our office today at (734) 425-4400.