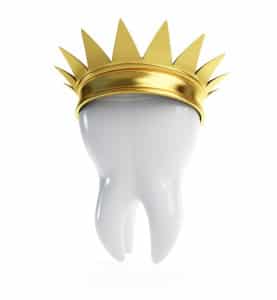 If you know the basic information about dental crowns, you know that these are hollow prosthetic teeth that we custom craft to protect your natural teeth or to offer additional support. What exactly does that mean? Well, it's hard to sum it all up with a single sentence because crowns do, in fact, satisfy a wealth of different purposes. Have we recommended a crown for your tooth or have you discovered that this prosthetic is going to improve your smile in some way? Learn more about the many ways crowns improve your smile for a better understanding of what to expect:
They Cover Damaged Teeth
Your tooth can become damaged as the result of a sudden impact. You may suffer from a cavity that leaves your tooth ready to shatter, which may happen. For teeth that have become seriously physically damaged, we will do our best to salvage your tooth. How? By prepping it and placing a dental crown over it for protection and restored integrity.
They Camouflage Cosmetically Challenged Teeth
There are a variety of imperfections that may affect your teeth. In some cases, these imperfections become too difficult for us to address with our usual menu of cosmetic treatments. This may include severe staining, for instance. If this describes your tooth, we may offer a dental crown to renew the appearance of your tooth and your overall smile.
They Support Dental Bridges
Choosing to replace your missing teeth with a bridge? If so, you will be relying on the support of dental crowns. On each end of the bridge rests a crown, which we will cement over your teeth.
Crowns Protect Weak Teeth
Rather than allowing your weak tooth to break, we may cover it with a crown to protect damage from occurring. This is often the case after a patient has completed root canal treatment.
ABOUT YOUR LIVONIA, MI DENTIST:
James Stewart, DDS, and our compassionate staff proudly serve patients of all ages from Livonia, Farmington Hills, Plymouth, Northville, Dearborn Heights, Garden City, and all surrounding communities. To schedule a consultation, call our office today at (734) 425-4400.