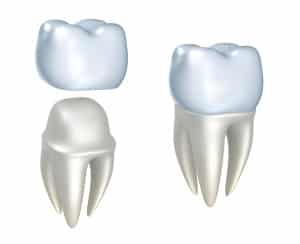 Are you wondering why we suggested a dental crown to fix your tooth? You will be happy to find out that a crown offers an exceptional list of benefits, including protecting your tooth so it will not need to be removed from your smile. For patients who would like to learn more about this prosthetic and what to expect, we invite you to discover more with the following information. We are happy you have taken an interest in the restorative care you need and look forward to guiding you toward an improved smile.
What's A Crown?
You might hear friends refer to a crown as a "cap." This is a commonly used term because a dental crown is a hollow artificial tooth constructed to fit directly over your natural tooth like a little hat. You can expect full coverage and an artificial tooth that has been custom-fitted and crafted to blend with your smile and your bite.
What Are Crowns Made Of?
A dental crown can be made of a variety of materials. We will determine the best material for your needs based on the location of your damaged tooth. For instance, if you are in need of a crown for a back tooth that must withstand chewing pressure, a metal or PFM (porcelain-fused-to-metal) crown may offer the strength you need. Or, for visible teeth that do not require as much durability, we may suggest a porcelain or zirconia crown, so your smile continues to look natural and beautiful.
Why Do I Need A Crown?
You need a dental crown because your tooth is no longer healthy enough or structurally sound enough to remain standing as-is in your mouth. Some patients require crowns for serious tooth decay, for a tooth that has fractured or broken, or even for a tooth recently treated with root canal therapy. The crown will cover the tooth and restore its structure and function.
ABOUT YOUR LIVONIA, MI COSMETIC DENTIST:
James Stewart, DDS, and our compassionate staff proudly serve patients of all ages from Livonia, Farmington Hills, Plymouth, Northville, Dearborn Heights, Garden City, and all surrounding communities. To schedule a consultation, call our office today at (734) 425-4400.