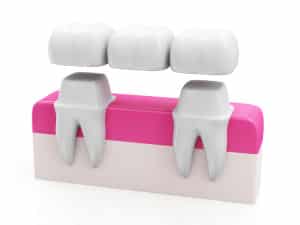 Have you recently learned about the benefits of dental bridges? Perhaps you are missing two teeth side-by-side and cannot wait to have your smile looking complete again. Maybe you are tired of wearing a partial denture and are looking forward to the solid daily wear of a fixed prosthetic. Whatever your particular reason for feeling excited, we understand that you may also be feeling somewhat hesitant if you're not sure what to expect from the process. Rest assured, receiving a bridge is straightforward – before you know it, your smile and daily quality of life will be restored.
Visit For A Consultation
To begin, we will sit down with you for a consultation. This will give us time to examine your smile and ensure a dental bridge is the best solution for you. We can explain the procedure and provide you with alternative solutions, such as dental implants, if necessary. Once we agree on a bridge, we can then move forward by drawing up a treatment care plan.
Impressions and Design
We will need to take impressions of your smile, which means we will use putty-like material to take molds of your teeth. Once these molds set, they provide us with the blueprints and dimensions to your smile. A master ceramicist will rely on the impressions – as well as information about the color of your teeth – to create a custom-designed dental bridge to complete your smile.
Adjustments and Placement
Once we receive the completed custom dental bridge, you will visit us for your fitting. We may temporarily place the bridge and make small final adjustments to promote an exceptional fit. Then, using special cement, we will bond the end crowns over your natural "anchor teeth" on either side of the open space in your smile and you will be good to go.