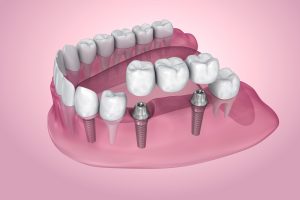 You know that dentures are used to address total tooth loss, but what if you've only lost one or two teeth? To prevent worsening problems and further tooth loss, you may need a prosthetic known as a dental bridge. In today's blog, your Livonia, MI, dentist will explain how we use these bridges to treat tooth loss.
The Dangers of Minor Tooth Loss
Losing a single tooth may not seem too serious, but this could cause problems for your oral health and smile stability. The gap in your smile could lead to surrounding teeth drifting from position, the resulting misalignment altering smile beauty and making the onset of tooth decay and gum disease more likely. The strain due to changes in your bite balance could make jaw joint disorders like TMD and bruxism (chronic teeth grinding) more likely. The body will also suspend the flow of calcium and phosphorus to the bone tissue around the lost root, which causes a breakdown in mass and density. This could lead to further tooth loss with time!
Traditional Dental Bridges
To replace between one and three teeth in a row, we may prescribe a dental bridge. The prosthetic will contain your new tooth or teeth, with crowns attached to each end. To design them, we first remove structure from the natural teeth on each side of the gap, known as abutment teeth. We then take detailed impressions and images with digital technology, which lets us design and craft the prosthetic in a lab setting. When complete, you return to the office and we place the crown on the abutment teeth to secure the bridge. We craft the prosthetic from lifelike ceramic for a natural appearance, color-matching it to blend with your smile.
Support With Dental Implants
Crown-secured options last about 10 to 15 years, requiring replacement as the jaw ridge changes shape. However, we could also insert dental implants and attach the crowns to these instead. The implants stimulate the growth of bone tissue, preventing jaw ridge changes. You not only save natural tooth structure, but the new bridge could last for decades to come, possibly even a lifetime. If you have any questions about how we replace missing teeth, or how we ensure your new teeth look natural, then contact our team today.
DO YOU HAVE QUESTIONS ABOUT PROSTHETIC DENTAL CARE?
A prosthetic allows our team to restore the health, function, and beauty of your smile. For more information on addressing your missing teeth, call the office of James Stewart, DDS in Livonia, MI, today at (734) 425-4400. You can also visit our office at 15873 Middlebelt Rd Suite 100 Livonia, MI 48151. Don't live with missing teeth, find out which replacement option is right for you!