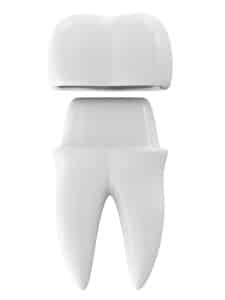 Learning about dental crowns will quickly reveal that these restorations are exceptional multi-taskers. Not only do they provide full coverage to damaged teeth, but they can also act as both restorative and cosmetic treatments. In some cases, a crown can even prevent the need for a dental extraction, saving your tooth from removal. As for the particulars of what we provide at our practice, you may find yourself quite curious about the materials we offer and what you can expect for your personal dental needs. Find out more with answers to questions commonly asked regarding crowns and personal treatment plans.
Questions About Dental Crowns
Question: Do you offer dental crowns that will provide cosmetic benefits?
Answer: Yes. In some cases, patients' cosmetic needs surpass the benefits offered by porcelain veneers or other treatments. In this case, we may suggest a beautiful crown composed of a customizable, lifelike material like zirconia or porcelain.
Question: Do you also offer metal crowns or only materials like porcelain?
Answer: We do offer metal dental crowns for patients requiring exceptional strength and durability. Metal is the strongest substance available for crowns. Or, we offer porcelain-fused-to-metal for strength with the added bonus of an esthetically pleasing finish.
Question: How do you decide which type of dental crown to place in my mouth?
Answer: We choose the material for your crown based on multiple factors. First, recognize that we choose the material based on the visibility of your tooth, so we protect its cosmetic value. Second, we consider the placement of that tooth and how much pressure it bears on a daily basis. In addition, we will always work within your budget.