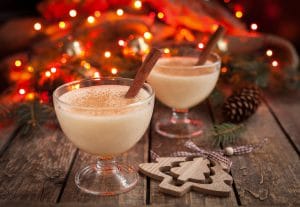 With the changing of everything, from the weather to the decor you see in stores to the cold-weather holidays that are coming, the world seems to turn on its axis a bit as autumn and winter arrive. When it comes to your smile health and its beauty, too, this may be a time for you to put some extra measures in place to ensure you're not digging into cold-weather treats that could mean bad news for your grin. Are you sure about what's considered a "friend" and what's a "foe" to your smile during this festive time of year? Cover the details with our Livonia, MI team, so you're headed toward protection!
Those Exciting, Warm Drinks!
These are lumped as a "foe" to your smile health! Yes, there are some exciting drinks that show up this time of year. There's apple cider, eggnog, peppermint mochas, pumpkin spice lattes. You name it and it's probably something you can pick up in an instant (or will be on the menu for the holiday party you're planning on attending). While fun holiday beverages can put a smile on your face, they can also sometimes lead to smile health problems and more. Remember:
Drinks that contain caffeine or alcohol can interrupt your usual sleeping patterns, which isn't something you want to experience if you're treating sleep apnea. Caffeine can also be problematic for TMJ disorder and bruxism!
Super sugary or acidic drinks (or both) are not good for your oral health in general, so try to follow them up by drinking water to prevent tooth decay
Berry Delicious Snacks
These are not necessarily a foe to your smile health, as berries are packed full of antioxidants that are beneficial for your body and your oral health. However, you may think of them as "foe" if you're focused on the beauty of your smile. Why? Well, remember that berries are extremely pigmented, which means they're deep in hue and can stain just about anything. That includes your teeth! Our team reminds you that when you eat cranberry sauce, berry pie, or berries in any other form, they may end up leading to stains on your teeth. Can we treat these? Of course! However, if you wish to avoid them, remember to follow berry dishes and beverages with water (and possibly with a brushing session, too).
Protect Your Smile Easily This Season
Keep your smile healthy throughout the holiday season with our simple care reminders. James Stewart, DDS, and our team serve patients from Livonia, MI, as well as Farmington Hills, Farmington, Plymouth, Northville, Novi, Dearborn Heights, Dearborn, Garden City, Westland, Redford, and the surrounding communities. To schedule a consultation, call our office today at (734) 425-4400.