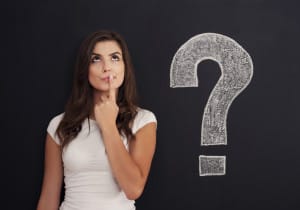 Has the appearance of your smile been weighing on your mind lately? Perhaps you have felt unhappy with the way your smile looks for quite some time now but you have never taken any measures to improve it. If your goal is to achieve a grin that you can feel excited about and that more closely matches the way you envision yourself, we encourage you to consider cosmetic dentistry. Already one step ahead of us? For patients preparing for cosmetic treatments or a cosmetic consultation with us, we gently urge you to ask yourself the following questions in preparation, so you can have the best experience possible:
"Are my teeth healthy?"
There's a basic order of priorities that we follow when it comes to improving your smile. We always begin by improving the health of your mouth before we focus on addressing cosmetic concerns. Your mouth's ability to feel good and function is always more important because oral disease is progressive and damage cannot fix itself. Once your smile is healthy, we can move forward with cosmetic care. Keep in mind that if your teeth are not healthy, we may need to begin with restorative treatment.
"Are my gums healthy?"
That information about your teeth – it applies to your gums, too. Your gums provide protection and support to your teeth. If you suffer from gum disease, the problem is quite serious. Treating it immediately will result in cured, healthy tissue. Neglecting the problem will result in disease that is controllable but that will require treatment for life. Address your gum health and then we can guide you toward a smile that truly makes you happy.
"Are my goals realistic?"
It is important to consider what you smile will look like once we have completed your treatments. If you envision something that is unachievable for your particular features, you will set yourself up for disappointment. However, if you have a realistic outlook on what you can achieve, you will feel overjoyed by the results.
"What don't I like about my smile?"
To improve your smile we need to know what you dislike. You may want to write a quick list of what you find displeasing about your grin before your cosmetic consultation, so you remember to point out everything you would like to improve.
ABOUT YOUR LIVONIA, MI DENTIST:
James Stewart, DDS, and our compassionate staff proudly serve patients of all ages from Livonia, Farmington Hills, Plymouth, Northville, Dearborn Heights, Garden City, and all surrounding communities. To schedule a consultation, call our office today at (734) 425-4400.