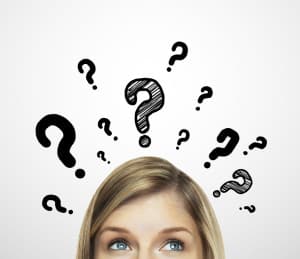 If you don't really like the way your smile looks, you are probably overwhelmed with happiness at the thought of improving your smile's appearance. However, just because you know cosmetic dentistry will improve your smile and the way you feel about yourself does not mean you plan on entering into treatment without asking a few questions first. We are always happy to help educate our patients, so they feel wonderful about the treatment decisions they make. If you find that you are struggling with some concerns regarding cosmetic care, we invite you to look over the following questions that we commonly receive from patients (answers are included, of course):
Question: How do you decide how to improve my smile?
Answer: We will never simply offer a universal treatment for your needs. You will receive the care best suited to your smile during a consultation. All you need to do is schedule an appointment, so you can come in and tell us how you're feeling about your smile and what you would like to change. The rest will include a collaborative effort between us.
Question: How do I know if I qualify?
Answer: Just about everyone qualifies for cosmetic dentistry. Your children may need to wait to become teenagers before we offer cosmetic improvements. However, teens and up can enjoy cosmetic care that will transform smile imperfections into beautiful grins. To make sure you are a candidate for specific treatments, we will evaluate your smile and your goals during a consultation. During this time, we can provide you with insight into appropriate selections to help you attain your most beautiful smile.
Question: How will I pay for cosmetic treatments?
Answer: This is something that you will need to determine through a bit of research. If you have dental insurance, some carriers will provide partial coverage for certain procedures. However, for the most part, cosmetic treatment will require out-of-pocket payment. For definitive answers regarding insurance coverage, speak with a representative from your insurance provider.
ABOUT YOUR LIVONIA, MI COSMETIC DENTIST

:
James Stewart, DDS, and our compassionate staff proudly serve patients of all ages from Livonia, Farmington Hills, Plymouth, Northville, Dearborn Heights, Garden City, and all surrounding communities. To schedule a consultation, call our office today at (734) 425-4400.