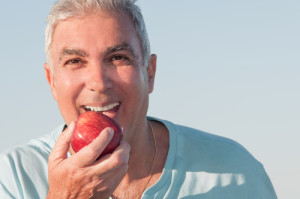 Losing your teeth can lead to embarrassment about your appearance. Many people even avoid social interactions with friends. To enjoy a whole and beautiful smile, you need to restore your smile to full function and health once again. To accomplish this, many dental professionals now offer tooth replacement with dental implants.
Common Questions About Dental Implants in Livonia MI
Question: How do implants work?
Answer: Unlike other dental prostheses, which are held in place with crowns, adhesives, or natural suction, an implant is held in place with a titanium post that bonds to the jaw. This secures the new tooth like a natural one. We place the post surgically. During a brief healing period, the bone and post bond. This also stops the deterioration of jawbone tissue that often accompanies tooth loss. Once this period ends, we add an abutment to the post to secure a restoration.
Question: Who qualifies for this option?
Answer: Anyone who has lost a tooth can qualify, provided they meet two criteria: Healthy gums and adequate bone tissue. Gums must be free of periodontal disease, which could otherwise cause implant failure. The jawbone tissue must be able to support the titanium post.
Question: How long will the prosthesis last?
Answer: On average you can expect this option to last for up to 25 years. In some cases, they have been known to last even longer. By maintaining good oral hygiene you can help boost the chances of your prosthesis lasting for several decades.
Question: Will my replacement teeth look natural?
Answer: Yes. Each implant will be topped with a custom-made dental crown. We design the crown based on impressions taken of your teeth. We also use ceramic to fabricate the restoration. This ensures your crown looks like a natural tooth. If you have any questions about the placement process or your options for replacing a lost tooth, please contact our office.
ABOUT YOUR LIVONIA DENTIST:
James Steward, DDS, and our compassionate staff proudly serve patients of all ages from Livonia, Farmington Hills, Plymouth, Northville, Dearborn Heights, Garden City, and all surrounding communities. To schedule a consultation, call our office today at (734) 425-4400.