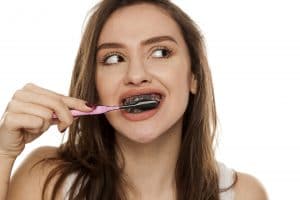 When you want to whiten your smile, you may find that there are loads of trends out there that will promise to offer you the outcome you're hoping to achieve! Unfortunately, though you may try to ignore the facts, you know deep down that they're not all going to provide you with safe and effective results. So, when you hear about the new treatment on the block (activated charcoal toothpaste) and you see some exceptional results in images and videos online, you may find yourself wondering: Is this a good idea as a teeth whitening solution? The answer is no! Let's get busy with explaining some reasons why.
It's Not Good For Teeth
Charcoal toothpaste is not good for your teeth. In fact, it can become quite harmful for them. Remember that when you choose this pathway toward trying to give yourself a teeth whitening solution, there's no magic going on. Instead, you're scrubbing your teeth by scouring them with an abrasive material. Will you see the removal of stains? Most likely. However, what you may not realize is that you are physically removing some of your dental tissue, too, which is not ideal and can eventually lead to serious problems for your oral health.
It Won't Offer The Effects You Want
Yes, you might see some lightening. However, you're not going to see the teeth whitening results you were visualizing. Remember that due to digital re-touching and special lighting, some of the results you see online will not necessarily be realistic. Or, the results may present someone who has used other treatments, etc. When you want beautiful and safe whitening, choosing dangerous, abrasive toothpastes is not the way to go.
Our Care Will Do The Trick!
So, what can you do when you want brightening (and dramatic brightening at that) for your whole smile? Come see us about teeth whitening. We will protect your tissues, which includes your soft tissues that can become aggravated by scrubbing, as well as your teeth that can become eroded, as we help you achieve just what you've been hoping for!
Whiten Teeth Safely With Our Help
See our team for safe and effective whitening, so you can enjoy the new look of your smile! James Stewart, DDS, and our team serve patients from Livonia, MI, as well as Farmington Hills, Farmington, Plymouth, Northville, Novi, Dearborn Heights, Dearborn, Garden City, Westland, Redford, and the surrounding communities. To schedule a consultation, call our office today at (734) 425-4400.