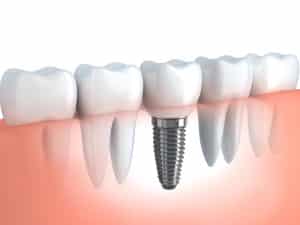 Has tooth loss taken a toll on your smile? Are you missing one tooth or several teeth? Perhaps you are missing all of your teeth but the idea of full dentures is unappealing. No matter your tooth loss configuration, you have a wonderful solution at your disposal. For patients with sufficiently strong and healthy jawbones, dental implants offer exceptional benefits as a tooth replacement option. How much do you know about the advantages offered by implants? If you know that an implant is a titanium post placed surgically into your jawbone, which will later support a dental crown, you are on track toward having an excellent knowledge of this prosthetic. However, to truly comprehend how implants can improve your daily life, learn more about the details:
Dental Implant Benefits
A dental implant replaces your tooth's roots – it will support a dental crown in the case of a single implant. However, you can also enjoy added stability by choosing implants placed in strategic areas of your mouth to support a prosthetic like a partial denture or even complete dentures.
An implant offers a secure, stable tooth replacement unlike any other. Because your implant fuses with your jawbone, you will not experience slipping or any other type of loose fitting that you may experience with other replacements.
You will be able to chew any type of food you used to enjoying eating with your natural teeth.
You can expect to speak as clearly and as articulately as you ever did with your natural teeth.
Dental implants act as placeholder. They will prevent your remaining natural smile from becoming misaligned – this is something that can occur when natural teeth shift into an open space in your smile.
An implant is easy to care for – you will simply need to continue brushing your teeth twice a day and flossing once daily.
Implants replace your entire tooth, from the roots up – because of the comprehensive way they restore your teeth, you can expect them to last for many years if not for the rest of your life.
Due to their long-lasting nature, the initially large investment ends up being quite cost-effective when you consider the cost in the long run.
ABOUT YOUR LIVONIA COSMETIC DENTIST:
James Stewart, DDS, and our compassionate staff proudly serve patients of all ages from Livonia, Farmington Hills, Plymouth, Northville, Dearborn Heights, Garden City, and all surrounding communities. To schedule a consultation, call our office today at (734) 425-4400.