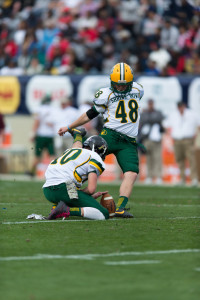 Get your kids out and active by participating in the many community events Livonia, MI offers for people of all ages. Have kids? Get them outdoors and exercising! Your Livonia, MI dentist Dr. James Stewart suggests Punt, Pass, and Kick, Wednesday, August 6th at Rotary Park.
Punt, Pass, and Kick
Do you have a football enthusiast 8 to 15 years of age? Boy or girl, everyone is welcome. Girls don't be shy. Boys and girls will compete separately.
When: Wednesday, August 6th, 2014
Where:Rotary Park, 32184 6 Mile Rd.
Start Time: 10:30AM (registration begins at 10:00AM on the day of event)
End Time: 12:00PM
Fees: Free
Parents, enjoy watching your children compete at Punt, Pass and Kick. Both girls and boys have the opportunity to compete against their peers in punting, passing and kicking contests in Local, Sectional, NFL Team Championship and National Final levels. They will be judged based on distance and accuracy. Age divisions include:
Ages 8 and 9
Ages 10 and 11
Ages 12 and 13
Ages 14 and 15
Ages determined based on the date of December 31st 2013. For information call 734-466-2410.
Don't Forget Rock Wall Climbing!
The Community Recreation Center of Livonia (LCRC) invites you and your friends for a night on the Rock Wall for only $3.00 per climb.  We provide the Belayer. Challenge yourself. A release of liability form is required.
When: Friday, August 8th 2014
Where: Livonia Community Recreational Center (LCRC) 15100 Hubbard
Start Time: 6:00PM
End Time: 9:00PM
Fee: $3.00 per climb
For more information on hours and day pass please feel free to call our front desk at 734-466-2900.
About Dr. Stewart
James R. Stewart, Jr, DDS, PC and our compassionate staff proudly serve patients of all ages from Livonia, Farmington Hills, Plymouth, Northville, Dearborn Heights, Garden City, and all surrounding communities. If it's time for a professional cleaning, call our office today at (734) 425-4400, to schedule an appointment.