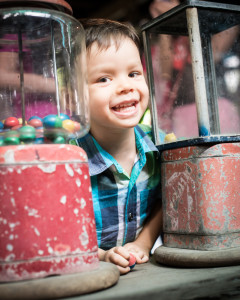 Do you and your kids love the wacky and the wonderful? If so, you are going to love this museum. If you are looking for something unusual and unique to do with the family, look no further. Your Livonia, MI dentist, Dr. James Stewart recommends a visit to Marvins Marvelous Mechanical Museum in Farmington Hills, MI.  Read on for more info.
What: Marvins Marvelous Mechanical Museum
Hours: Mondays and Thursdays 10AM to 9PM; Fridays and Saturdays 10AM to 11PM; Sundays 11AM to 9PM
Where: 31005 Orchard Lake Road, Farmington Hills, MI 48334
Cost: However much you want to spend playing with the coin operated machines.
Description:
If you love the wacky, weird, and wonderful, then you need to check out Marvins Marvelous Mechanical Museum featuring Marvin's personal collection of coin operated machines, vintage mechanical games from all over the globe, kids rides, and other cool, fun, and curious items. Take the day to browse. This museum has amazing and amusing items such as the classic tic tac toe chicken, a collection of maintained pinball machines, some incredibly rare and interesting items, and items specifically built for Marvin's museum itself.
Home to thousands of mechanical oddities and one-of-a-kind collectibles that you need to see to believe. Don't expect to see everything in one trip! You can find it in Farmington Hills, MI on the corner of Orchard Lake Road and 14 Mile Road.
Who is Marvin you ask?
Marvin is an avid collector who has been collecting vintage coin-operated machines since 1960. He opened the museum in 1990 to share his collection with the public. Marvin adds more things all the time. Marvin's museum is listed in the World Almanac's 100 most unusual museums in the U.S.
Don't forget your pocket money for:
Schedule your child's birthday party at Marvins!
About Dr. Stewart
James R. Stewart, Jr, DDS, PC and our compassionate staff proudly serve patients of all ages from Livonia, Farmington Hills, Plymouth, Northville, Dearborn Heights, Garden City, and all surrounding communities. If it's time for a professional cleaning, call our office today at (734) 425-4400, to schedule an appointment.