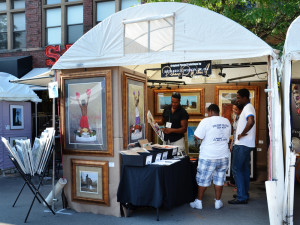 Do you enjoy the visual and the musical? Are you an artist yourself? Do have a budding artist or musician in your family, or are you just looking for something fun and entertaining to do?  Your Livonia, MI dentist, Dr. James Stewart suggests checking out the Hazel Park 3rd Annual Art Fair at Green Acres Park in Hazel Park MI. A wonderful way to spend the day or the weekend with the whole family, and best of all it's free!
What: Hazel Park 3rd Annual Art Fair
Where: Green Acres Park 620 W Woodward Heights Blvd., Hazel Park MI
When: Saturday August 23rd – 10am to 9pm; Sunday August 24th – 10am to 7pm
Cost: FREE to attend
About
Let us entertain you and sustain you at The Hazel Park Art Fair located in Green Acres Park in Hazel Park, MI. The 3rd annual art fair features local art, artisans, music, food, drinks, and more! A variety of foods and drinks will sustain you while dozens of artists and 16 bands entertain you!
Featuring unique visual artists:
Julie Fournier,
Cory Thompson,
Steven Gamburd
Dollie Dagger
Vendors:
CreepynCute Shop
9 Designs Emporium
With eclectic music provided by:
White Shag
Bastion
Spaceband
Blue Black Hours and more
Music Venue
Saturday, August 23, 2014: 
12:00 Casino
01:00 Julie Haven
02:00 Low Key
03:00 Fuzzgun
04:00 Michigan Basement
05:00 7 Layers
06:00 White Shag
07:00 Spaceband
08:00 Renegade Soul
Sunday, August 24, 2014:
12:00 Steve D'Angelo & Company
01:00 RacecarracecaR
02:00 Monocain
03:00 Shotgun Soul
04:00 Bastion
05:00 Blue Black Hours
06:00 Lava Moth
About Dr. Stewart
James R. Stewart, Jr, DDS, PC and our compassionate staff proudly serve patients of all ages from Livonia, Farmington Hills, Plymouth, Northville, Dearborn Heights, Garden City, and all surrounding communities. If it's time for a professional cleaning, call our office today at (734) 425-4400, to schedule an appointment.