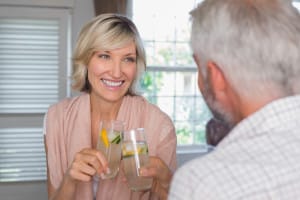 If you have been searching high and low for a solution to address your missing tooth or teeth, a dental bridge may complete your smile. However, you may have noticed that not every dental prosthetic is appropriate for every set of tooth loss circumstances. While bridges offer a wide array of wonderful benefits to help patients regain their smiles and daily comfort, we invite you to learn more about this particular tooth replacement option. Keep in mind, whether or not you make a wonderful candidate for this particular solution, we will assess your needs and create a customized care plan that will work for you. Learn more:
You Have Healthy Anchor Teeth
In some cases, we may suggest the placement of dental implants to assist with supporting your dental bridge if your teeth are not healthy enough. However, understand first why healthy teeth make placement a breeze: On either side of the open space in your mouth sits a natural tooth that we call an "anchor tooth." This is because we will place either end of the bridge (each end is composed of a dental crown) over your anchor teeth for support. The artificial teeth that rest between these two end crowns are called pontics, which bridge the gap in your smile.
Bridges Don't Replace All Tooth Loss Configurations
If you are looking for a prosthetic to replace teeth scattered across your arch or full arches of teeth, you may be better suited to partial or complete dentures. However, if you make a good candidate for a dental bridge, you will be missing one tooth or up to three teeth in a row, since a bridge is a series of connected artificial teeth.
You Want A Fixed Replacement
You must desire a prosthetic that remains in place. We will cement the dental bridge into your mouth over your anchor teeth for long-term wear, which means you will not take the bridge in and out of your mouth.
ABOUT YOUR LIVONIA, MI COSMETIC DENTIST

:
James Steward, DDS, and our compassionate staff proudly serve patients of all ages from Livonia, Farmington Hills, Plymouth, Northville, Dearborn Heights, Garden City, and all surrounding communities. To schedule a consultation, call our office today at (734) 425-4400.