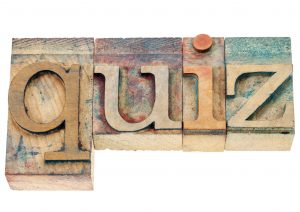 Do you know what you can do on a daily basis to brighten up your smile? Are you clear regarding what does work and what does not work, when what you want is some truly remarkable improvement when it comes to the shade of your teeth? As we're talking about achieving a very vivid grin, it's important to talk about colors you wear, whether teeth whitening is right for you, and more. Let's get you started! Take our quiz.
Quiz Questions: True or False?
True or False: If you want your smile to appear whiter throughout the day, it's important to avoid wearing warm colors and instead stick to cooler tones.
True or False: If you want a whiter grin, then you can go ahead and use whitening products that you find at the drugstore.
True or False: For the best results possible, you should talk with us about teeth whitening and other brightening cosmetic dentistry treatments we offer, so your smile sparkles.
Quiz Answers
True. This is accurate! Warm colors will bring out the warm tones in your teeth (yellow). So, try to avoid wearing yellow, orange, and red. Instead, neutrals are a better choice (like white, grey, black, etc.) or cooler tones (like blue, violet).
False. The stuff at the drugstore isn't going to give you what you want. It's not very strong. However, it's harsh, so it can harm your teeth without offering esthetic improvements. Avoid it!
True. When you're hoping for teeth whitening effects that are impressive and that don't lead to any damage to your teeth or gums, it's always the best choice to talk with us about the cosmetic care we offer.
Brighten Your Smile With Our Care
Want a whiter smile? Then, come in to talk with us about daily changes you can make as well as to talk about cosmetic care that will dramatically whiten your grin. James Stewart, DDS, and our team serve patients from Livonia, MI, as well as Farmington Hills, Farmington, Plymouth, Northville, Novi, Dearborn Heights, Dearborn, Garden City, Westland, Redford, and the surrounding communities. To schedule a consultation, call our office today at (734) 425-4400.