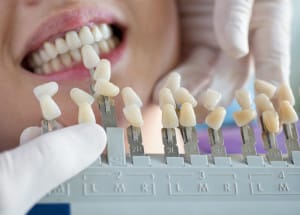 With the enormous amount of growth in cosmetic dentistry in recent years, it may be useful to brush up on your knowledge, and see which options are right for you. Teeth whitening is one of the most popular cosmetic procedures because patients can experience immediate results, with no invasive treatments. Depending on your level of improvement desired, your dentist will create a customized treatment plan to be carried out in the office or the comfort of your home. Whitening your teeth is one of the safest options in creating a beautiful, updated appearance.
True/False Quiz
Teeth whitening is painful.
Whitening your teeth can take months before your desired effect is reached.
Everyone is a candidate for whitening treatments.
By lightening your teeth several shades, you can achieve an amazing new look.
Answers
False – There should be no pain involved with the tooth whitening process. In some cases, patients may experience some sensitivity to hot and cold after their treatments, but this usually quickly dissipates on its own with no intervention. If you experience severe pain following a whitening treatment, contact your dentist right away.
False – Teeth whitening products are designed to produce fast results, especially when completed in a dental office. Take-home treatments can take a couple weeks before your desired amount of bleaching is acquired.
False – Unfortunately, not every patient is a good candidate for tooth bleaching products. If you experience extreme sensitivity in your teeth when you eat, or to temperature changes, your dentist may not recommend the bleaching procedure be carried out until your sensitivity is under control. You should always consult with your dentist before attempting any whitening procedures.
True – It is a proven fact that bright, white smiles are more likely to help you gain self-esteem and even improve your relationships. With teeth whitening's immediate effects, you are likely to feel a great confidence boost soon after your treatment.
ABOUT YOUR LIVONIA COSMETIC DENTIST:
James Stewart, DDS, and our compassionate staff proudly serve patients of all ages from Livonia, Farmington Hills, Plymouth, Northville, Dearborn Heights, Garden City, and all surrounding communities. To schedule a consultation, call our office today at (734) 425-4400.