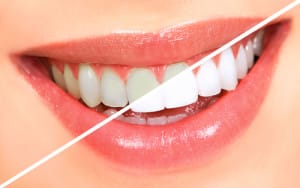 With cosmetic dentistry, we can improve the overall appearance of the smile using a variety of conservative and comfortable treatment options. Common imperfections may range from discoloration to malformed teeth. There are a number of problems cosmetic dentistry can correct; all you need to do is speak with a dental professional.
The Benefits of Cosmetic Dentistry in Livonia, MI
Stained teeth: What causes discoloration? Smoking, certain foods, drinks with dark pigments, medications, and injury can all lead to discoloration. We will recommend a solution to discoloration based on the cause and severity of your teeth stains. For example, teeth whitening can remove stains caused by foods and drinks. However, porcelain veneers can mask the appearance of permanent discoloration, which may develop as a result of medication or injury.
Chipped teeth: If you chip a tooth we can restore the structure in a single visit with a dental bonding. We use composite resin to replace lost structure. In addition, placing dental veneers over the front of the teeth can address chips or dental fractures.
Misshapen teeth: You may have naturally malformed teeth or as a result of damage from accidents or trauma. We can employ either dental bonding or porcelain veneers to correct the tooth. In addition, contouring can be used to shave away overly pointed teeth.
Misalignment: If you have uneven teeth then we can potentially provide a cosmetic solution. For patients with minor alignment issues, such as gaps or overlapping, we can place veneers over the front of the teeth. Doing so can correct the appearance of the teeth.
Pits or grooves in the tooth surface: Dental contouring, in which we gently shave away a minuscule amount of tooth structure. Doing so can address pits or grooves in the tooth surface.
ABOUT YOUR LIVONIA COSMETIC DENTIST:
James Steward, DDS, and our compassionate staff proudly serve patients of all ages from Livonia, Farmington Hills, Plymouth, Northville, Dearborn Heights, Garden City, and all surrounding communities. To schedule a consultation, call our office today at (734) 425-4400.