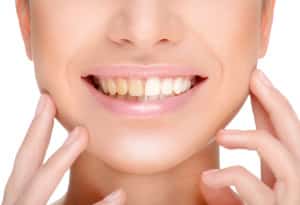 Over time our smiles often become a little dull as a result of discoloration and other esthetic issues. Fortunately, we can improve the appearance of your teeth with cosmetic dentistry. Cosmetic dentistry refers to any procedure designed solely to boost the appearance of your smile. We offer a number of cosmetic treatments that improve smiles, including teeth whitening and porcelain veneers.
5 Cosmetic Treatments
Teeth Whitening: We actually have two different types of whitening services, depending on the cause and severity of your discoloration. For surface stains and minor intrinsic stains (discoloration below the surface) we have Opalescence. The Opalescence system involves the patient wearing a custom-made set of trays filled with a bleaching gel once a day for a set amount of time, Maximum results take between a week and ten days. For more serious discoloration, we can recommend KoR Whitening Deep Bleaching. The procedure begins with an office treatment before the patient returns home to wear the trays as recommended. Once they return to the office, we perform a final treatment to complete the procedure.
Dental Bonding: If you chip a tooth we can often correct the issue in a single visit. Dental bonding uses the same composite resin as white fillings, only here they are used to restore lost structure after a tooth is chipped or broken. After applying the resin, the doctor cures it with a light, sculpting and then polishing the tooth. The lost structure is restored in just one sitting.
Porcelain Veneers: With veneers, we can address damage, stains, gaps between teeth, and even reshape a tooth by placing a thin restoration over the front of the teeth. Veneers are created from very thin shells of porcelain, for a strong and lifelike restoration. Placement typically takes between one and two visits.
Contouring: Like bonding, contouring only takes one sitting. However, instead of adding structure with a composite resin, the doctor removes a minuscule amount by buffing the tooth. Contouring will smooth the surface, removing pits, grooves, and dulling overly sharp teeth.
White Restorations: If you have a cavity or damage a tooth, we can restore it with either a filling or a crown. We use lifelike materials for our restorations, which will blend seamlessly with your smile.