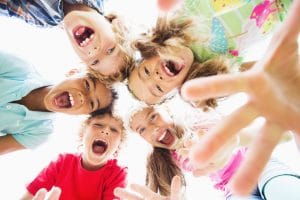 Did you know obstructed breathing in children could lead to an array of complications, from poor sleep to problems with behavior? In order to improve breathing and correct the growth of oral structures, we may recommend orthotropic treatment. Find out what benefits orthotropics offer families in Livonia, MI.
What is Orthotropic Treatment?
For some children, issues with the growth and development of the jaw and oral structures impact overall health and lead to serious complications later in life. In order to correct the problem, we recommend a custom-made oral appliance to be worn as the child sleep. The device then guides the development and growth of the oral structures. We can offer children as young as age three orthotropic treatment.
Benefits of Treatment
The Appliances Fit Comfortably: The appliances will be custom-made, which means they will be designed and created to fit comfortably and provide children with accurate treatment. They will also be able to wear them without discomfort, ensuring they are able to wear them as recommended by the dentist.
Children Avoid Misalignment: As issues with the growth of the jaw occur, the likelihood of misalignment increases. Meaning as they grow older, kids will be more likely to develop uneven smiles that would require orthodontic treatment, such as braces. Otherwise, untreated misalignment increases the risk of tooth decay, gum disease, TMJ disorder, and bruxism.
Improved Behavior: Obstructed breathing means children cannot obtain the deep, interrupted rest needed to function properly during the day. Meaning exhaustion could impact behavior, causing the to miss emotional milestones and even be diagnosed with ADD or ADHD.
Better Sleep: When they sleep better, they don't experience restlessness, yelling or screaming during sleep, chronic snoring, trouble waking up, sleepwalking, and night terrors.
Reduced Risk of Sleep Apnea: Without treatment, the risk of sleep apnea occurring later in adulthood becomes much more likely. Treating the issue helps prevent the onset of this serious sleep disorder.
DOES YOUR CHILD NEED ORTHOTROPICS?
We want to help your children enjoy improved oral health and a better night's rest! James Stewart, DDS, and our team serve patients from Livonia, MI, as well as Farmington Hills, Farmington, Plymouth, Northville, Novi, Dearborn Heights, Dearborn, Garden City, Westland, Redford, and the surrounding communities. To schedule a consultation, call our office today at (734) 425-4400.