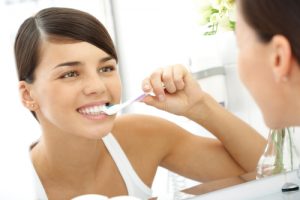 Do you suffer from halitosis? This refers to chronic bad breath that never seems to improve. While gum or store bought rinses can help mask the issue, you may require more to completely rid yourself of recurring halitosis. There are a number of steps you can take to improve your breath, from caring for your smile to our own unique services.
Improving Your Breath in Four Steps
Brush and Floss: Sounds simple, right? Well, it is! When you brush and floss, you move food particles from your mouth. Doing so prevents bacteria from breaking down the particles, a process that leads to plaque buildup and poor breath. You should brush your teeth twice a day for two minutes each session. We also suggest brushing your tongue as well. You also need to floss each night before going to bed. Not only will you improve freshness, you can also help reduce the risk of tooth decay, gingivitis, and even gum disease, improving overall oral health.
Avoid Certain Foods: Certain foods, such as onions or garlic, can lead a bad odor that actually permeates throughout your body. In addition, sodas and coffee can lead to dry mouth, which leads to plaque issue and halitosis. Drinking more water and cutting back on foods with bad odors can help you avoid halitosis.
Try Our BreathRx® Products: These products include an array of options you can bring home to address the causes of halitosis and keep things fresh. We may suggest a rinse, toothpaste, breath spray, mints, or a tongue scraper. Each product contains ZYTEX™, an ingredient that combines eucalyptus oil, zinc, and thymol to destroy volatile sulfur compounds, stopping bad breath at the source.
Do You Have Questions About Treating Gum Disease?
James Stewart, DDS, can recommend the most appropriate options for managing your periodontal disease. We serve patients of all ages from Livonia, MI, as well as Farmington Hills, Farmington, Plymouth, Northville, Novi, Dearborn Heights, Dearborn, Garden City, Westland, Redford, and the surrounding communities. To schedule a consultation, call our office today at (734) 425-4400.