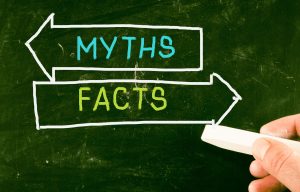 There are many areas of dental care that can cause some amount of confusion. One of those "hot topics" that tends to show up quite frequently, for which patients seem to feel the need to commit themselves to one side or the other? It's the topic of fluoride! You may feel as though you should be "for" or "against" it. The truth is, fluoride is essential, it's a natural mineral, and without it, you and your family could end up with some serious oral health concerns. Find out more in regard to common untruths you may hear, as cleared up by our Livonia, MI practice!
#1: Untrue: Daily Fluoride Use Is Poisonous
You are going to hear from people every now and then that you should run away from fluoride and never look back. However, you are never going to hear that from our practice! Unfortunately, it takes just little tiny bit of information for rumors to begin and to spread! When we're talking about fluoride for your dental care, here's what happens: Someone learns that if you eat it in large amounts, it can be toxic. That information becomes twisted and someone just hears "toxic and fluoride" in the same sentence. You get the picture! The truth? Daily use is perfectly safe! Just be sure to spit it out!
#2: Untrue: Fluoride Will Stain Your Smile
Fluoride isn't going to stain your smile. You're an adult. Your smile is already done growing! However, fluoride in far too great an amount can lead to stains on developing teeth of children. Fortunately, there are easy ways to avoid this. First, you want to check in with our practice during checkups to discuss the fluoride your child receives, to talk about the water you give your child (community water, well water, etc.), and we can go from there. That way, we can talk with you about fluoridated water, fluoridated toothpaste use, and treatments in our practice, as we ensure your child is getting the right amount through dental care and more.
#3: Untrue: Only Kids Need Fluoride
Children really need fluoride, this is true, because without it, their teeth will end up dealing with trouble in development and are much likelier to become decayed. Adults don't need quite as much fluoride but they still need some to protect their oral health! As long as you are using fluoridated toothpaste twice daily to brush your teeth during dental hygiene, then you should be in good shape. It's children who require more than this for proper growth.
Ask Us Your Hygiene Questions
When you have questions, concerns, or doubts about any aspect of your oral health care or dental hygiene, we want you to remember that you are more than welcome (if not strongly invited) to bring worries to us! James Stewart, DDS, and our team serve patients from Livonia, MI, as well as Farmington Hills, Farmington, Plymouth, Northville, Novi, Dearborn Heights, Dearborn, Garden City, Westland, Redford, and the surrounding communities. To schedule a consultation, call our office today at (734) 425-4400.