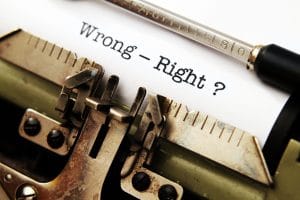 There are some things you might be getting wrong about your oral health needs and about dental care if you're worried about needing a root canal. The truth is, our Livonia, MI team reminds you, that there's really nothing to feel concerned about in terms of this type of smile care. However, we know that you may feel upset, guilty, or even apprehensive about coming in. To this, we say: Allow us to remind you about a few things you're getting wrong, so you can start to feel wonderful about protecting your grin!
#1: You're Wrongly Assuming You're A Failure
You may feel like a complete failure when you learn you need root canal treatment for your tooth. However, what we hope is that instead of feeling this way, you realize that sometimes things happen. Even if you didn't take amazing care of your teeth, you ignore the need for a filling, and that's why you require care, it doesn't matter! What matters is that you realize humans occasionally mess up…sometimes, accidents like trauma can lead to internal tooth damage, too…and the good news is we can save your smile! Feel proud that you're following through with smile care, make any changes necessary to prevention, and that's that!
#2: You're Assuming Your Tooth Will Look Terrible
You may be figuring that your smile may get through a root canal treatment and come out the other side in better health but you might also worry that you're going to end up with a smile that doesn't look so wonderful. What you're overlooking is the fact that after the root canal is complete, we can place a beautiful, natural-looking crown over remaining tissue. Remember, in addition to sealing in your tooth to ensure it is healthy and safe from future problems, we also practice restorative care with the intention of guiding your smile toward looking restored and healthy, too!
#3: You're Guessing Root Canals Are "The Worst"
You might just assume root canal treatment is the worst thing in the world, that it's the worst of the dental treatments out there, etc. However, the truth is that they're not really much different from fillings and there's nothing to worry about. That part of your mouth will be nice and numb and we'll rescue your tooth. So, it's all good!
Feel Good About Your Root Canal
Relax when you learn that you require a root canal treatment. Rather than worrying about the reasons you require one or worry about what to expect, rest easy knowing we can easily fix your tooth and oral health! James Stewart, DDS, and our team serve patients from Livonia, MI and the surrounding communities. To schedule a consultation, call our office today at (734) 425-4400.