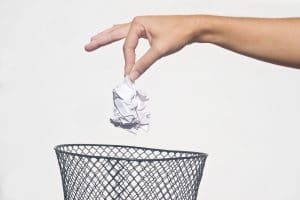 When you think about your dental hygiene, you may spend most of your time thinking about how to use products properly and how to keep your smile clean. As a result, you don't spend much time focused on what you should be throwing out once you've used it or exactly how long a particular product is going to be good for use. As a result, today, our Livonia, MI team would like to help you improve your smile care at home by offering extremely important (and very easy) tips that will ensure your hygiene products are working for, not against, you.
#1: Throw Out Your Used Dental Floss Strand…
Once you use a strand of dental floss, you should throw it away. Remember that even as you use your strand of floss, you should use one segment for one space between teeth, then move onto a clean bit of floss for the next. Otherwise, all you're doing is just moving bacteria, plaque, and debris from one spot to the next. You really don't want to use an entire length of used floss that has already been exposed to bacteria and that may not offer the powerful cleaning you need. Toss it and start fresh each and every dental hygiene session!
#2: Throw Out Your Used Toothbrush…
No, you don't have to throw out your toothbrush every dental hygiene session. That would be super wasteful and expensive! However, your toothbrush isn't going to last forever. First, you should remember that a brush can only offer effective care for about three to four months before it's time for a new one. Next, if you notice that your brush's bristles look rather beat up and frayed, then you can purchase a new brush a bit earlier than the 3-month mark. However, remember that this may mean you're brushing too hard, so be sure to offer gentle smile care! Not sure and need help? Call our team!
#3: Throw Out Mouthwash, Toothpaste, Etc…
How do you know when it's time to throw out mouthwash, toothpaste, and other dental hygiene products, you ask? All you have to do is take a look at the package and find the expiration date. When the date arrives, say goodbye to them and start fresh! Otherwise, you're not getting the potency necessary for them to offer effective smile care.
Keep Your Smile Extra Healthy With Easy Tips
When you are thoughtful about your products and length of use, it can positively impact your oral health. Need help? Ask for tips! James Stewart, DDS, and our team serve patients from Livonia, MI, as well as Farmington Hills, Farmington, Plymouth, Northville, Novi, Dearborn Heights, Dearborn, Garden City, Westland, Redford, and the surrounding communities. To schedule a consultation, call our office today at (734) 425-4400.