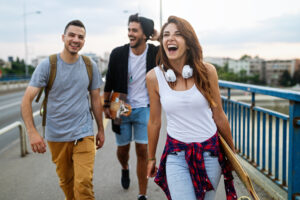 If you are the parent of a teen, it may be hard to know when they are dealing with a serious health concern. Teens themselves might not understand the seriousness of some issues, as well. After all, they have not had the life experience to help determine what changes in their body are normal. So they can let these problems fester for too long before they seek medical help.
But with our third set of molars, it is very important to monitor their growth early and routinely. This means keeping to a strict schedule of appointments with your trained oral health care provider. The information that comes with digital x-rays and other imagery can be invaluable in saving your smile from many different concerns. These include issues with alignment and even enamel damage. Today, your Livonia, MI dentist reiterates the need to keep a particular eye on adolescent and young adult mouths!
They Can Cause Serious Damage
The growth of wisdom teeth can lead to major concerns to your oral health. This is not only evident in cosmetic concerns, but the medical future for your mouth. So this is not something that you should feel comfortable ignoring, and you place yourself at risk by allowing them to grow without imagery.
Your third molars can radically alter your alignment, since they tend to grow erratically. And there simply is not enough room in your mouth for them, even if they are straight. This can lead to overcrowding and overlapping.
These alignment concerns can lead to areas that are difficult or impossible to properly clean. Bacterial colonies form there and create highly acidic waste. This causes cavities and other forms of tooth decay. When this infection reaches the interior area, it can result in the need for a root canal or even an extraction. Adequate imaging can help you avoid that fate!
The Best Steps For Your Smile
For these reasons, it is vital that you keep in touch with your dental health care office during adolescence. It's a pivotal time in your life, and it may be hard to juggle your schedule. School and social activities ca make it difficult to find a specific time that works for you.
But take the time to invest in your smile's future! Scheduling time when you can plan around the event of appointments can save you problems in the future. Emergency dentistry is great medicine when it's necessary. But if we can prevent emergencies from happening, it is best.
Additionally, if your dentist explains that an extraction surgery is necessary, don't be frightened. This is a routine procedure and you should have faith in the process. It's never anyone's idea of a vacation, but approaching it well can save you time, pain, and effort!
ABOUT YOUR LIVONIA, MI, DENTIST:
James Stewart, DDS, and our compassionate staff proudly serve patients of all ages from Livonia, MI, as well as Farmington Hills, Farmington, Plymouth, Northville, Novi, Dearborn Heights, Dearborn, Garden City, Westland, Redford, and the surrounding communities. To schedule a consultation, call our office today at (734) 425-4400.