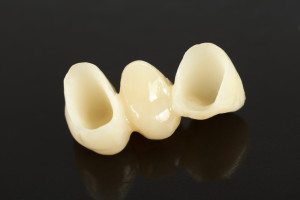 There are many options available when it comes to tooth replacement. So many options, in fact, that it may become confusing trying to decide which is right for you. There are dentures, partial dentures, bridges, implants, etc., and each has its own benefits. Today, your Livonia, MI dentist, Dr. James Stewart explains the difference between a partial denture and a bridge.
What is a Partial Denture?
A partial denture, also referred to as a removable partial denture (RPD), is a dental prosthetic that can be removed from your mouth. Think of it as an orthodontic retainer with teeth. RPD's are fabricated by placing artificial teeth on a molded acrylic base tinted to resemble your gums. Metal clasps are used to attach the RPD to your existing teeth on either side of the replacement area. The metal clasps and the rigid acrylic gum base, which rests on your natural gum, stabilize the RPD and keep it in place.
Benefits of RPD's
Cost is a major factor when choosing an RPD over a bridge. RPD's are not only an inexpensive option, but they are a practical option if there is the potential for additional tooth loss in the future. It is easier and less expensive to add new teeth to a partial denture. Presently, RPD's are commonly made with acrylic, but new more comfortable, flexible materials are being introduced such as vinyl and nylon. Vinyl is not only more comfortable and flexible, it is easier to modify if future adjustments are required. The use of nylon eliminates the need for the metal clasps due to the strength of the nylon material.
What is a Dental Bridge?
A bridge is made up of one or more false teeth with a crown on each end. Dental bridges literally work like a bridge by "bridging" the gap created by the missing teeth. They are a fixed prosthetic and require a more invasive treatment, because the teeth on either side of the replacement area (called abutment teeth) are reduced in size. The natural teeth are shaved and then covered with the dental crowns on each end of the bridge. The crowns are cemented to the abutment teeth holding the bridge in place. A bridge consists only of the false teeth and end crowns. Bridges do not require a "gum" base.
About Dr. Stewart
James R. Stewart, Jr, DDS, PC and our compassionate staff proudly serve patients of all ages from Livonia, Farmington Hills, Plymouth, Northville, Dearborn Heights, Garden City, and all surrounding communities. If it's time for a professional cleaning, call our office today at (734) 425-4400, to schedule an appointment.